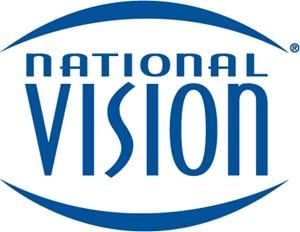 National Vision (NASDAQ:EYE) announced its quarterly earnings data on Thursday, November 7th. The company reported $0.18 EPS for the quarter, beating analysts' consensus estimates of $0.08 by $0.10, Briefing.com reports. National Vision had a return on equity of 6.01% and a net margin of 0.62%. The company had revenue of $431.90 million during the quarter, compared to the consensus estimate of $427.83 million. During the same quarter in the prior year, the firm earned $0.12 EPS. The company's quarterly revenue was up 11.5% compared to the same quarter last year.
Shares of EYE traded up $0.56 during mid-day trading on Friday, reaching $27.59. The company's stock had a trading volume of 640,600 shares, compared to its average volume of 732,495. The company has a market cap of $2.14 billion, a price-to-earnings ratio of 61.31, a price-to-earnings-growth ratio of 2.69 and a beta of 1.43. The business has a fifty day moving average of $24.43 and a 200 day moving average of $27.82. National Vision has a 1 year low of $22.02 and a 1 year high of $40.06. The company has a quick ratio of 0.55, a current ratio of 0.92 and a debt-to-equity ratio of 1.19.
A number of equities research analysts have recently commented on the company. Loop Capital upgraded National Vision from a "hold" rating to a "buy" rating and increased their price objective for the company from $30.00 to $37.00 in a research report on Wednesday, August 7th. Barclays started coverage on National Vision in a research report on Tuesday, November 12th. They set an "overweight" rating and a $34.00 price objective for the company. Wells Fargo & Co reduced their target price on National Vision from $37.00 to $30.00 and set an "outperform" rating for the company in a report on Monday, September 30th. ValuEngine upgraded National Vision from a "hold" rating to a "buy" rating in a report on Friday, November 8th. Finally, Bank of America upgraded National Vision from a "neutral" rating to a "buy" rating in a report on Tuesday, October 1st. One investment analyst has rated the stock with a hold rating and nine have issued a buy rating to the stock. The company presently has an average rating of "Buy" and an average price target of $34.88.
In other National Vision news, Director Thomas V. Taylor purchased 3,610 shares of the stock in a transaction dated Monday, November 11th. The shares were bought at an average cost of $27.59 per share, with a total value of $99,599.90. Company insiders own 2.60% of the company's stock.
National Vision Company Profile
National Vision Holdings, Inc, through its subsidiaries, operates as an optical retailer primarily in the United States. The company operates in two segments, Owned & Host and Legacy. It offers eyeglasses and contact lenses, and optical accessory products, as well as eye exams through its America's Best, Eyeglass World, Vista Optical, and Vista Optical Military, as well as Vision Center brand stores; and provides health maintenance organization, vision care benefit plan, and optometric services.
Further Reading: How does a 12b-1 fee affect fund performance?